Before going to England, I didn't have a huge TBR. No, I didn't have a TBR at all, because since books are expensive where I live, and when I get a book online I have to wait at least three weeks, I didn't have a lot of books.
But then, I went to England, and I came home with A WHOLE SUITCASE FULL OF BOOKS. You probably guessed it, I still didn't read all the books I got in England. I have 26 books left to read, without counting books I don't even plan to read. So it was really difficult to narrow it to 10 books.
Here are my top ten books I've recently added to my TBR:
Fangirl by Rainbow Rowell
I wasn't a huge fan of Eleanor & Park by the same author, but I have a lot of expectations for this one. I feel like it's going to represent me as a Fangirl.
The Jewel by Amy Ewing
I have really high expectations for this book, even though there's not a lot of hype around it. It's just that the story line intrigues me. It seems different from other books.
This Is What Happy Looks Like by Jennifer E. Smith
Well, that's a long title.
This story seems so happy. I expect from it to make me smile all along.
To All The Boys I've Loved Before by Jenny Han
Seems like there's a lot of contemporaries. It's just because I kept buying books of this genre, but didn't get to read them, because I'm still not on a contemporary mood. And To All The Boys I've Loved Before is one of these books.
Fairest by Marissa Meyer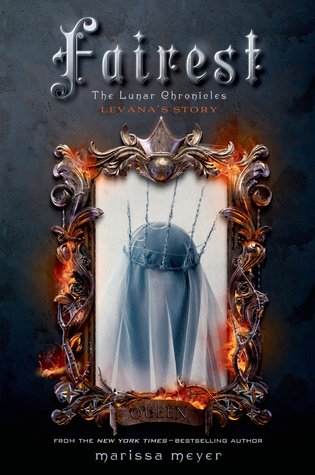 I don't plan on reading this book until I get my hands on Winter, but I'm super excited to know Levana's story!
The Elite by Kiera Cass
Yes. I still didn't read The Elite. Shame on me.
City of Glass by Cassandra Clare
City of Bones and City of Ashes were amazing! That's why I'm so excited to dive back into The Mortal Instuments and the Shadowhunters world.
I also read The Infernal Devices, which is a prequel trilogy to The Mortal Instuments, and IT WAS AMAZING. FEELS.
I think that's it. I probably didn't put 10 books in here (I didn't count to be honest), but these are the most important books I've recently added to my TBR.
What are the books that you've recently added to your TBR?